The latest from the Horizon Records' newsletter.
Almost two weeks after April 16 and I'm still trying to absorb the splendor of what was Record Store Day 2016 weekend for us and Greenville SC. As well I'm still trying to process the level of magical connections that seemed to effortlessly wire up and spark things. I wish to express my gratitude in so many different directions, that I will break it up into several key areas, in no particular order.
Here goes:
– OUR CUSTOMERS NEAR AND FAR who showed up starting with the 1st early birds couple lined up at 1am to all who rolled in at 9am to each and every one who visited Saturday and Sunday and shopped and supported us. We love you.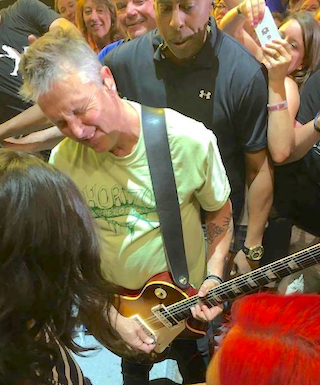 – ROSANNE CASH & JOHN LEVENTHAL: It's so amazing when someone I used to collect the records of and have sold the releases by from the start (can you say 1979!!) plays town at The Peace Center and gives not one, but two shouts to Record Store Day, brick and mortar music retailers and announces from stage a surprise visit to us on RSD Saturday. Thence a signing and meet and greet late morning that lasts for an hour and a half of genuine kindness, all the while listening to Muddy Waters (and the upcoming new William Bell).
– PEARL JAM; especially ED VEDDER, MIKE McCREADY & MATT CAMERON). Well how apropos was it that that the iconic rock force Pearl Jam was playing a long sold out show at the Bon Secours Wellness Arena same night as Record Store Day? How little did I know! so guitarist Mike McCready stopped in to shop and say hello about midafternoon. We took some photos, chatted about the store, I babbled about the RSD Muddy Waters LP he had in his big stack of vinyl, we gave him a T-shirt and off he went back to the arena. Well, boom! Later that night Eddie V honors us with a RSD shout out and a 40th anniversary toast on stage to all 16000 Pearl Jam fans in the house…what a thing!! Hell, Fox News even covered it. Well it still gets better; Mike McCready dons that Horizon Records T-shirt for the final portion of their stunning 3.5 hour show. Horizon is as honored as we are supremely humbled by Pearl Jam's generosity of spirit. These guys are a musical and cultural and community force of major proportions.
– To the HORIZON RECORDS STAFF. wow. Our crew is the best. Weeks of prep, final week frenzy, receiving, jockeying and stocking a skid load of all new RSD16 titles, plus a mountain of re-stocks and new stuff to feed to our expected RSD hungry throngs. Then all hands on deck early Saturday and away we go into our 9th Record Store Day which like many of recent vintage featuring a crush and crowd all processed in a chaotic looking but relatively efficient, friendly manner. Hardly a breathing spot and here comes our esteemed visitors and a second crowd to greet and meet Rosanne Cash and onward all day through til 10pm.

– AND
, of course there's no rest for the weary (or wicked) or the ever vigilant music collector so it's
GREENVILLE RECORD FAIR
next
Saturday May 7
, along with the usual store wide shenanigans and intendent hoopla (more on all that next week he said with a goofy smile).
COME SEE US!
HOURS:  Monday-Saturday 10am 'til 10pm,  Sunday 11-6